Monero Observer – vdo releases 'xmr.sh' v0.3.1
September 10, 2022 by secret
154
3 Jun 2022 [mining] vdo has released v0.3.1 of xmr.sh, a Docker-based single command Monero node bootstrapper script: xmr.sh script wizard sets up a new server running a monero node daemon with Docker compose, with your choice of SSL certificates for your domain, network selection, a Tor hidden service, Grafana dashboard and more. Changes Grafana
3 Jun 2022
[mining]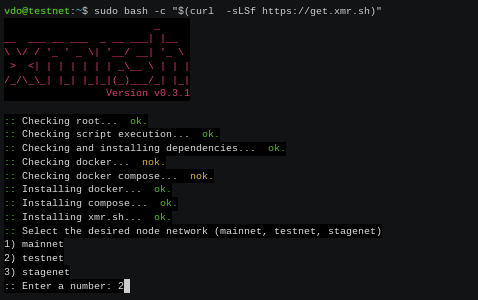 vdo has released v0.3.1 of xmr.sh, a Docker-based single command Monero node bootstrapper script:
xmr.sh script wizard sets up a new server running a monero node daemon with Docker compose, with your choice of SSL certificates for your domain, network selection, a Tor hidden service, Grafana dashboard and more.
Changes
Grafana dashboard
Local volumes
Uninstall script
The script makes it easy for anyone to run a Monero node on any server running Debian 11, Ubuntu Focal or Fedora 36, with a single command:
sudo bash -c "$(curl  -sLSf https://get.xmr.sh)"

Note that for a more secure production deployment, it is recommended to clone the source code and proceed manually.
To learn more about the project, consult the project's code repository and FAQ section.
---