Monero Observer – Monero Observer Blitz #9
September 18, 2022 by secret
146
1 May 2022 [blitz] Here's a recap of what happened this April in the Monero community: Douglas Tuman offered $1K in XMR for Gratuitas.org website redesign (1) Monero Talk interviewed entrepreneur Richard Cooper (2) ACK-J posted a March 2022 update for their MAGIC-funded research proposal (3) There were 2 Monero Development Workgroup meetings this month
1 May 2022
[blitz]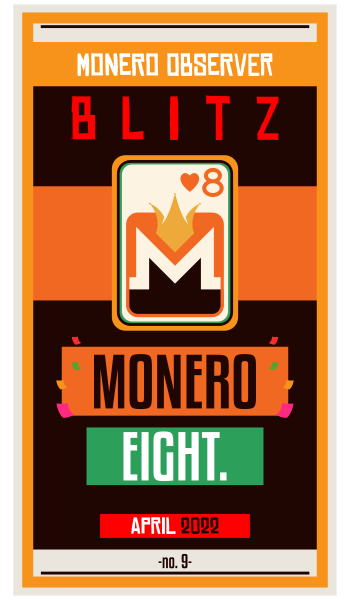 Here's a recap of what happened this April in the Monero community:
Douglas Tuman offered $1K in XMR for Gratuitas.org website redesign (1)
Monero Talk interviewed entrepreneur Richard Cooper (2)
ACK-J posted a March 2022 update for their MAGIC-funded research proposal (3)
There were 2 Monero Development Workgroup meetings this month (4,5)
Trezor users were exposed to unicode domain phishing attack (6)
DangerousFreedom1984's CCS proposal to build Python tools that check for inflation in Monero was fully funded (7)
Haveno's CCS proposal for front-end development was fully funded (8)
hinto-janaiyo's CCS proposal to build monero-bash was fully funded (9)
m0n3r0d1c3's CCS proposal to deploy Monero Dice casino was fully funded (10)
The community held 5 MoneroKon 2022 Planning Meetings (11,12,13,14,15)
There were 4 Monero Research Lab meetings in April (16,17,18,19)
agustincruz opened and closed a CCS proposal to fund a 3D metal printer project (20)
Cake Labs released Cake Wallet v4.4.0 and Monero.com by Cake Wallet v1.0.5 (21)
Kivojo published 4 The Monero Standard newsletter issues (#7-#10) (22,23,24,25)
midipoet's attendance to the 2022 Oslo Freedom Forum was fully funded by the community through a CCS proposal (26)
CryptoGrampy's CCS proposal to code Monero Point of Sale web app HotShop was fully funded (27)
John Foss's CCS proposal was fully funded and he published 4 new The Monero Moon newsletter issues (#37-#40) (28,29,30,31,32)
savandra submitted a CCS proposal to create Monero animated videos (33)
rottenwheel published 4 Revuo Monero issues (#115-#118) (34,35,36,37)
moneroist submitted a CCS proposal to build Patronero project (38)
gnuteardrops reached an impressive Monero.Graphics milestone after publishing the 100th design titled Monero encrypt ideas (39)
mrperx submitted a CCS proposal to create Dew, a decentralized general escrow desktop application (40)
hinto-janaiyo released monero-bash v1.0.0 and v1.4.1 (41,42)
pluja unveiled a new and improved KYCNOT.me dark themed UI (43)
porky11 was looking for artists and writers to contribute to Monerochan visual novel prototype (44)
eversinc33 created an experimental Monero RPC client library in Nim (45)
monerobull launched the monerosupplies.com sticker shop (46)
Haveno posted a community update after receiving funds from their first CCS proposal milestone (47)
fatalglory created monerod-proxy Golang app (48)
mjxmr's and Endor's SolOptXMR CCS proposal was fully funded (49)
monderodl shared a list of videos, audio files and slides from the recent Monerotopia event (50)
The call for Monerokon 2022 presentations and workshops was open unitl May 1st (51)
The community scheduled The Monerun event for April 18th 2022 to coincide with Monero's 8th birthday (52)
Haveno adopted the Contributor Covenant Code of Conduct v2.1 (53)
akimayumi forked Monerujo into Shruum alpha wallet (54)
Monero community reached consensus to hard fork on July 16th 2022 (55)
kopipe proposed a $3,099 bounty for a Monero vanity address generator that uses OpenCL or CUDA, which was paid to sech1 within 24 hours (56)
The community celebrated Monero's 8th birthday with great news from the XMR bulls that registered the 7th consecutive weekly victory (57)
reemuru's This Year in Monero – 2022 post was deployed to Getmonero.org blog (58)
selsta posted an April 2022 dev update and submitted a new CCS proposal for 3 more months of Monero dev work until July (59)
XMR wiped all 2022 losses after hitting 110-day high (60)
A Monero Space Meeting scheduled for 23 April 2022 was canceled (61)
sethforprivacy's Fluorine Fermi v0.18 announcement post was deployed to Getmonero.org blog (62)
Google briefly removed Monero.com by Cake Wallet app from Play Store (63,64)
hegjon paid for electricity with Monero in Cipo software demo video (65)
Douglas Tuman discussed Monerun aftermath with MoneroFox in Monerotopia Ep.61 (66)
moneroguides completed Getting to grips with Monero CCS proposal (67)
binarybaron shared a mainnet demo for the XMR-BTC atomic swap desktop GUI prototype
(68)
Haveno published the list of crypto assets that will be available at launch (69)
benevanoff announced the beta release of XMR-Multisweeper CLI tool (70)
Cake Labs announced a new and revamped website interface for their Monero.com XMR-only wallet (71)
Monero Talk interviewed dMartian on Monero and liberty (72)
Mullvad started preparing to finally support XMR payments (73)
selsta's May-July 2022 Monero dev work CCS proposal was fully funded (74)
UkoeHB submitted a new CCS proposal to continue working on the Seraphis wallet PoC (75)
kayabaNerve discovered a security vulnerability in the monero-python module and j-berman helped emesik release the v1.0.2 patch (76)
Waves.Exchange Legal team replied to Monero Observer inquiries related to their previously reported plans to delist Monero (77)
reemuru opened and closed a CCS proposal to create interactive guides for Monero developers (78)
xmrmfjj2 was tricked into paying an exorbitant 19.73 XMR transaction fee by a malicious Monero remote node (79)
Haveno decided to remove Zcash from list of currencies that will be supported at launch, after receiving heavy criticism (80)
Justxd22 added support for P2Pool and P2Pool Mini to their Moneroo _xd Telegram bot (81)
Luigi Tech shared a video in which he demonstrates how to run a full Monero node via Tor using Docker Compose (82)
Monero GUI v0.17.3.2 Oxygen Orion was released with experimental support for P2Pool mining (83)
The next MoneroKon 2022 Planning Meeting was scheduled for 7 May 2022 (84)
My personal contributions:
published 5 weekly MO Artistic Saturday Top 5 reports (Weeks: 13/14/15/16/17, 2022) (85,86,87,88,89)
published 4 weekly MO XMR TA Reports (Weeks: 13/14/15/16) (90,91,92,93)
published March 2022 MO Blitz Report: #8 (94)
published 104 Monero Observer Reports & listed 52 Community Messages and 12 Calendar events (95,96) (consult the Archive page for a complete list (97))
published 4 weekly Monero Dev Activity Reports (Weeks: 13/14/15/16, 2022) (98,99,100,101)
created List of email service providers for anons (102) and updated signed contact information after cTemplar shut down (103), updated Resources, Calendar, Messages, Reports, Stats (full list of updates and improvements can be viewed on the Changelog page (104)
Credits/special thanks to:
everyone that reported broken links, suggested edits, sent anonymous news tips and shared my reports on social media
the cypherpunks that keep sending me encrypted emails and messages
gnuteardrops from Monero.Graphics for the amazing art
all MO loyal readers and CCS contributors
---
That's it for the 9th edition of Monero Observer Blitz.
Previous editions can be found on the /tag/blitz page.
Let me know if this was helpful, thanks for reading!
–escapethe3RA