Monero Observer – Monero Observer Blitz #8
September 27, 2022 by secret
198
1 Apr 2022 [blitz] Here's a recap of what happened this March in the Monero community: Winston submitted a CCS proposal to build Whatnero Android app (1) LocalMonero published Sethforprivacy's Contributing Back to Monero article (2) hdflix started adding Monero educational videos to Monero.ist (3) John Foss submitted a CCS proposal to fund the next
1 Apr 2022
[blitz]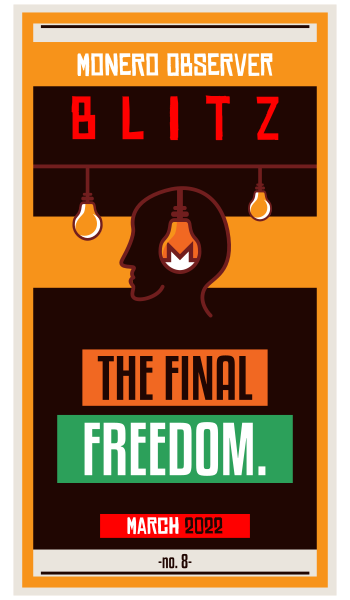 Here's a recap of what happened this March in the Monero community:
Winston submitted a CCS proposal to build Whatnero Android app (1)
LocalMonero published Sethforprivacy's Contributing Back to Monero article (2)
hdflix started adding Monero educational videos to Monero.ist (3)
John Foss submitted a CCS proposal to fund the next 18 issues of The Monero Moon newsletter (4)
Kivojo published 5 The Monero Standard newsletter issues (#2-#6) (5,6,7,8,9)
PrimeXBT added XMR/USD and XMR/BTC trading pairs to its platform (10)
John Foss published 5 The Monero Moon newsletter issues (#32-#35) (11,12,13,14,15)
New Monero multisig wallet RINO was looking for stagenet testers (16)
UkoeHB won $1K bounty after Haveno-sponsored multisig PR #7877 was merged into Monero (17)
rottenwheel published 5 Revuo Monero newsletter issues (#110-#114) (18,19,20,21,22)
Haveno core team allocated $500 bounty for Haveno desktop application PoC request (23)
MoneroTalk team invited the community to join Monerotopia live shows in Rincon, Puerto Rico (24)
Waves.Exchange announced plans to delist Monero, ZEC and Dash and advised users to withdraw their coins before May 8th 2022 or risk forfeiture (25)
There were 5 Monero Research Lab meetings in March (26,27,28,29,30)
The community held 4 MoneroKon 2022 Planning Meetings (31,32,33,34)
Monero Talk interviewed Frank Dashwood (35)
Kevin Wad discussed the future of Monero in an interview with Luke Smith (36)
Monerujo v2.3.3 Baldaŭ was released with support for multiple themes (37)
Monero.Bounties bot was temporarily broken (38)
xmrSale v2 was released with support for random public nodes over tor (39)
CryptoGrampy was looking for contributors to help build PocketNode, a Monero GUI node for Android (40)
hinto-janaiyo released XMRig-Auto-Build v1.2 and monero-toolchain v2.0.0 (41,42)
Justin Berman published the first progress report for his Feb-May 2022 Monero dev work CCS proposal (43)
rd8719 bagged 0.67 XMR after solo mining a block with the built-in Monero GUI wallet miner (44)
UkoeHB's Seraphis wallet PoC CCS proposal was moved to funding stage and got fully funded the following week (45,46)
Justin Ehrenhofer reported 74.6 XMR and 20.9K USD on MAGIC Monero Fund balance sheet (46)
Haveno submitted a new CCS proposal for front-end development, which was eventually moved to the funding stage (47,48)
selsta posted a CCS progress report for March 2022 (49)
mjxmr's Q2 2022 CCS proposal was moved to the funding stage and got fully funded in 10 days (50,51)
MyMonero was looking for tech-savvy wallet users to take part in their iOS app beta test (52)
Canadian hosting provider Packet Point started accepting Monero for VPS plans (53)
fluffypony confirmed that he is working on a project involving wrapped XMR, DeFi protocols, borrowing and farming (54)
Adam Corbo and lunar_mining were invited to Monerotopia Episode 56 (55)
Lovera submitted a new CCS progress report for February 2022 (56)
A Monero Space Meeting was scheduled for the 26th (57)
Rucknium shared weekly and monthly visualizations of Monero ring member age distribution since 2014/04 (58)
emesik announced the release of monero-python v1.0 (59)
Monero Talk interviewed US senatorial candidate Bryan B. Solstin (60)
noot completed the 4th milestone for her XMR-ETH atomic swaps CCS proposal (61)
midipoet announced that MoneroKon 2022 will take place in Lisbon, Portugal on June 18-19 at Arroz Studios (62)
With The Monero Moon's future in question, author John Foss requested community feedback (63)
mjxmr published tsqsim benchmark results (64)
Monerotopia teamed up with The Crypto Vigilante to offer virtual conference access (65)
oeAdgK01 submitted a CCS proposal to translate Monero wallets, site, user guides, lecture and Moneropedia to Greek (66)
saccharineboi shared an Arch Linux installation and Monero mining video guide (67)
MAGIC Monero Fund committee allocated $12K USD to fund its first ever research proposal (68)
According to Andreas Antonopoulos clip, Bitcoin's anonymity set is much bigger than Monero's (69)
hinto-janaiyo submitted a CCS proposal to build monero-bash wrapper for Linux (70)
DangerousFreedom1984 submitted a CCS proposal to build Python tools that check for inflation in Monero (71)
mj submitted a CCS proposal looking to fund the SolOptXMR (Solar Optimal mining of XMR) project (72)
The community scheduled the next Monero Development Workgroup meeting for April 2nd (73)
SoiledCold5 announced their intention to list a WOW/XMR trading pair on upcoming Garlix crypto exchange (74)
ChangeNOW added XMR to their NOW wallet (75)
Monero Talk interviewed Bitcoin enthusiast Michael Ruiz (76)
The RINO team put out a $10K bounty towards fixing Monero's multisignature wallet code (77)
anon_ submitted a CCS proposal for Shadowcart project but then decided to cancel it (78)
mjxmr posted his March 2022 Monero dev report (79)
P2Pool v1.9 was released with a critical bug fix (80)
willk submitted an ambiguous CCS proposal to build a Monero ecological platform (81)
v1docq47 posted a February-March 2022 CCS progress report (82)
My personal contributions:
published 4 weekly MO Artistic Saturday Top 5 reports (Weeks: 9/10/11/12, 2022) (83,84,85,86)
published 4 weekly MO XMR TA Reports (Weeks: 9/10/11/12) (87,88,89,90)
published February 2022 MO Blitz Report: #7 (91)
published 101 Monero Observer Reports & listed 43 Community Messages and 10 Calendar events (92,93) (consult the Archive page for a complete list (94))
started publishing new weekly Monero Dev Activity Report (Weeks: 9/10/11/12, 2022) (96,97,98,99)
added new Statistics section (100) and new Mini RSS feed (101), updated Resources, Calendar, Messages, Reports, Stats (full list of updates and improvements can be viewed on the Changelog page (102)
Credits/special thanks to:
everyone that reported broken links, suggested edits, sent anonymous tips and shared my reports
the cypherpunks that keep sending me encrypted emails and messages
gnuteardrops from Monero.Graphics for the amazing art
all MO loyal readers and CCS contributors
---
That's it for the 8th edition of Monero Observer Blitz.
Previous editions can be found on the /tag/blitz page.
Let me know if this was helpful, thanks for reading!
–escapethe3RA
PS: Monero Observer is fully funded by you: anons, cypherpunks, freedom lovers. No sponsors, no conflicts of interest. The MO Spring 2022 CCS proposal was 100% funded. Thank you!