Monero Observer – Monero Observer Blitz #5
October 5, 2022 by secret
95
1 Jan 2022 [blitz] Here's a recap of what happened this December in the Monero community: Monero CLI v0.17.3.0 Oxygen Orion was tagged and later released with P2Pool support (1, 2) MyMonero enabled direct fiat purchases for Monero (3) pluja submitted a CCS proposal to build the Moneroj.info project (4) w4ca released v1.0.0 of MoneroMonitor
1 Jan 2022
[blitz]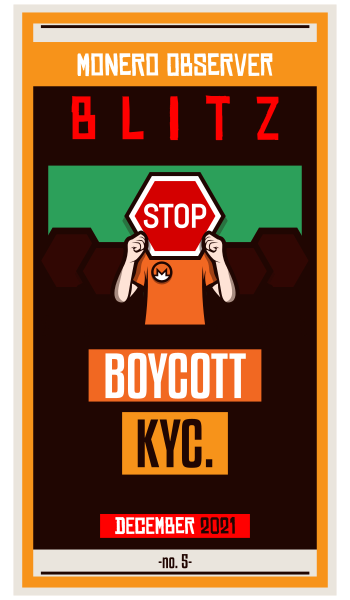 Here's a recap of what happened this December in the Monero community:
Monero CLI v0.17.3.0 Oxygen Orion was tagged and later released with P2Pool support (1, 2)
MyMonero enabled direct fiat purchases for Monero (3)
pluja submitted a CCS proposal to build the Moneroj.info project (4)
w4ca released v1.0.0 of MoneroMonitor (5)
Cake Wallet promised to drop everything and prioritize the Monero only app (6)
noot won a bounty for executing the first ever mainnet XMR-ETH atomic swap on Arbitrum (7)
Monero Talk interviewed Cake Wallet founder Vik Sharma (8)
Michael Schloh von Bennewitz submitted a CCS proposal to serve Monero content at TNABC Miami 2022 (9)
netrik182 posted the final progress report for their trial run CCS proposal (10)
tevador put forth a radical suggestion to replace Monero addresses with payment requests in UkoeHB's Seraphis Address Schemes Github issue (11)
Justin Ehrenhofer announced MAGIC Grants's new Monero Fund (12)
Monero Matteo interviewed Monero Core's ArticMine (13)
Vulnerabilities were identified in the implementation of Monero multisignature wallets code (14)
CryptoGrampy was seeking funding for his Monero Desktop Drag and Drop Widget Dashboard project (15)
Discussions for a Monero-Tari atomic swaps implementation were still open (16)
gnuteardrops shared the new Monero.Graphics repository (17)
Monerujo v2.2.1 René BETA release added support for onion nodes (18)
The Monero Community Workgroup held a meeting (19)
There were 5 Monero Research Lab meetings this month (20, 21, 22, 23, 24)
P2Pool v1.4 was released (25)
Kevin Wad shared his strategy of protecting Monero mnemonic seeds (26)
midipoet submitted a CCS proposal to fund MoneroKon 2022 (27)
Monero Talk interviewed Dash fan Joel Valenzuela (28)
netrik182 submitted a CCS proposal to continue working as translation coordinator for 3 months (29)
noot submitted a CCS proposal to develop XMR-ETH atomic swaps (30)
The Farcaster Project released initial version 0.1.0 of Farcaster Node (31)
Haveno updated its website interface (32)
Secret Code Podcast shared a 4-part tutorial series on the Secret Monero Bridge (33)
RogueMaven shared the spec document for Tails-like Monero Ilaro Linux OS (34)
There were 2 MoneroKon 2022 Planning Meetings this month (35, 36)
OsrsNeedsF2P proposed a bounty for the addition of a XMR-BTC atomic swaps trading pair to the Bisq DEX (37)
garrylachman released XMRig for Android Pre-Alpha 0.0.3 (38)
netrik182's CCS proposal was fully funded (39)
Cake Wallet sponsored Techlore's Threat Modeling Tutorial (40)
Monero Talk interviewed Sri Aravinda Krishnan on building a Lightning Network on Monero (41)
Farcaster Node v0.2.0 was ready for its first Testnet stress test (42)
selsta posted a CCS progress report for December 2021 (43)
The community held a Monero Space Meeting (44)
Rodolfo and aFungible joined Doug and Sunita on Monerotopia Episode 44 (45)
Sethforprivacy shared an informative Dispelling Monero FUD blog post (46)
TNABC Miami 2022 Monero presence was looking doubtful with 24 hours left until decision deadline (47)
v1docq47 posted his November 2021 CCS progress report (48)
monero-python 0.99 module was ready for testing (49)
Polarity was looking to add an xUSD-XMR trading pair (50)
Cake Wallet published Inference's audit of Thorchain's Monero multisig implementation (51)
Monerujo devs were looking to build a PoC app for iOS from scratch; the proposal was fully funded in under 72 hours (52, 53))
John Foss published Issue #25 of The Monero Moon after a 5 month hiatus (54)
Monero Talk interviewed Harsh Strongman on Bitcoin vs Monero (55)
UkoeHB's Seraphis post was deployed to Getmonero.org blog (56)
COMIT released version 0.10.2 of their XMR-BTC atomic swap tool (57)
DNSFilter CEO Ken Carnesi was using Monero FUD to promote his own business (58)
garrylachman released the Pre-Alpha 0.0.7 for his Android GUI miner xmrig-for-android (59)
Haveno was teasing the upcoming Monero P2P DEX (60)
Justin Berman published his 5th CCS progress report (61)
Privatemonero.org's admin shared a guide to setting up a public Monero remote node (62)
rimuru proposed a bounty for Atomic Swaps-as-a-Service (ASaaS) (63)
ArticMine stood up against centralized exchanges (64)
CryptoGrampy shared a demo for the Monero Desktop Drag and Drop Widget Dashboard PoC (65)
Gate.io exchange earned some street cred with their Monero beats Bitcoin video (66)
The next Community Workgroup Meeting was scheduled for 2 January 2021 1600 UTC (67)
My contributions:
added new Monero Observer Resources page (68, 69)
created new Guide to verifying, running and updating the official Monero CLI wallet on Linux (70)
published 4 weekly Monero Observer XMR TA Reports (Weeks: 48/49/50/51) (71)
published November MO Blitz Report (72)
published 88 Monero Observer Reports & 38 Community Messages (full list of updates and improvements can be viewed on the Changelog page (73)
---
That's it for the 5th edition of Monero Observer Blitz.
Previous editions can be found on the /tag/blitz page.
Let me know if this was helpful, thanks for reading!
–escapethe3RA
PS: Special thanks to all of you that supported my work by funding my 2022 Winter CCS proposal and by directly donating to my XMR address, I really appreciate you!