Monero Observer – Monero Observer Blitz #4
October 10, 2022 by secret
145
1 Dec 2021 [blitz] Here's a recap of what happened this November in the Monero community: Guns N' Bitcoin hosted a rather cringe Twitter Spaces meeting (1) tobtoht submitted a CCS proposal to continue dev work on Feather Wallet for 3 more months (2) Whonix was seeking volunteers to test Monero wallet isolation in QubesOS
1 Dec 2021
[blitz]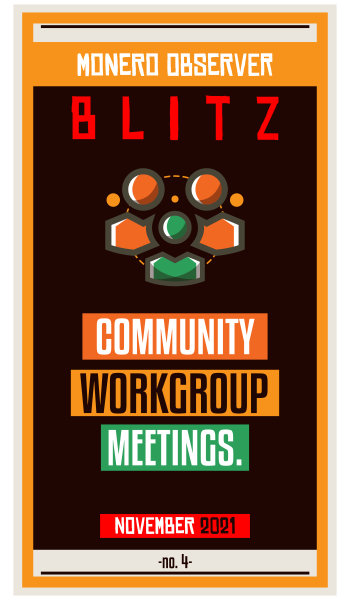 Here's a recap of what happened this November in the Monero community:
Guns N' Bitcoin hosted a rather cringe Twitter Spaces meeting (1)
tobtoht submitted a CCS proposal to continue dev work on Feather Wallet for 3 more months (2)
Whonix was seeking volunteers to test Monero wallet isolation in QubesOS (3)
The Monero Community Workgroup held 2 meetings (4,5)
The MoneroMarket project was set to launch its website on November 7th 2021 (6)
There were 4 Monero Policy Working Group meetings (7,8,9,10)
The Monero Research Lab also held 4 different meetings last month (11,12,13,14)
XMR.Radio was forced to scale down operation due to lack of interest (15)
ArticMine and Isthmus have weighed in on the feasibility of Rucknium's OSPEAD proposal (16)
John Foss announced the return of the Monero Moon newsletter mid December 2021 (17)
Kevin Wad published a video where he probed Darknet markets for Monero usage (18)
Radiant-Grab3640 was looking to spend centineros on game codes and TF2 currency (19)
Monero Talk interviewed Sudeep Bose on the expectation of privacy in Bitcoin vs. Monero (20)
P2Pool released v1.3.1 with various bug fixes (21)
Unkn8wn69 accepted CryptoGrampy's challenge to create a MoneroShop 101 video tutorial series (22)
DoaJC_Blogger offered a bounty to whoever suggested the best name for a payment gateway app (23)
ISeeYour.cash latest update added Rich Rankings and Twitter support (24)
Kevin Wad discussed shady CEX practices in an interview with Monero Matteo and bawdyanarchist (25)
Lovera submitted a CCS proposal to produce Monero educational content in Spanish (26)
moneroguides shared a P2Pool quick start guide video for Windows users (27)
Sylvain Cloutier interviewed Douglas Tuman on Monero basics (28)
CryptoGrampy invited contributors to new Monero UX community channels (29)
kuivpaju has been keeping the flag flying for Monero in Tacoma, Washington (30)
A Monero Meet livestream took place on the 13th (31)
netrik182 posted his first CCS progress report (32)
SlotePimousse shared his soccer betting project Petit.bet with the Monero community (33)
mjxmr's and tobtoht's CCS proposals were funded by the Monero community (34)
moneroguides started work on Getting to grips with Monero mini video series (35)
Spirobel uploaded a Monero webstore tutorial video (36)
XMRig was introduced as a NixOS package thanks to ratsclub's PR (37)
Daily Monero transactions reached a new ATH with 40,768 confirmed (38)
gingeropolous proposed a bounty for adding I2P support to the Monero GUI wallet (39)
Rucknium's OSPEAD CCS proposal was fully funded: 115 contributors donated 171 XMR (40, 41)
ChangeNow's Editor-in-chief Yennie Geller predicted $1,500 Monero by 2025 (42)
Douglas Tuman tried to clear the air around Monerotopia 2022 Miami event (43)
Kevin Wad published a video in which he analyzes Monero's supply (44)
UkoeHB invited the Monero community to discuss potential Seraphis address schemes (45)
Haveno raised a bounty to $1,500 in an effort to attract a Java/Typescript developer (46)
P2Pool added support for Docker Compose (47)
Monero Matteo uploaded a video exploring the prospect of government crackdown on Monero (48)
j-berman submitted a PR to decrease wallet sync times for new XMR transactions (49)
Monero Talk interviewed German Monero podcaster AlexAnarcho (50)
selsta's November progress report hints at upcoming Monero v0.17.3.0 release (51)
noot was looking for XMR-ETH atomic swap prototype feedback (52)
MoneroMarvin released a Python library for the LocalMonero API (53)
Fluorine Fermi won the condorcet 0.18 naming poll (54,55)
Alagaris was looking to improve MoneroPot raffle system (56)
Bistroo added XMR support to their food ordering app (57)
freshlysquosed asked Monero community to roast his IAcceptMonero project (58)
The Monero community was calling for a Binance boycott as CZ boasted about his monopoly (59)
The MoneroKon 2022 Planning Meeting was scheduled for 4 December 2021 (60)
There was a Monero Space Meeting on the 20th (61)
Slate magazine was spreading FUD about Monero (62)
john_r365 published A Layman's Guide to mj-xmr's work on Monero (63)
Kraken dropped Monero support for UK customers on the 26th (64)
moneroguides submitted a CCS proposal for Getting to grips with Monero mini video series (65)
Monero hard-fork v15 was planned for early Spring 2022 (66)
Monero Talk interviewed Darknet Diaries creator Jack Rhysider (67)
Rucknium published a Monero Open Research Questions list (68)
The Monero community was very interested in Elizabeth's XMR-ETH atomic swap prototype (69)
noot, Articmine, aFungible, Crypt0-bear and Elias joined 40th Monerotopia episode (70)
Zcash showed its true colors with the planned switch from PoW to PoS (71)
LinuxHeki released XMRiGUI v1.5 (72)
CryptoGrampy proposed a bounty for an XMR-only BTCPayServer setup video tutorial (73)
Kevin Wad posted a video review of Haveno and the Haven protocol (74)
The Monero Development Workgroup held a meeting on the 28th (75)
Sethforprivacy shared his self-hosted privacy services repository (76)
ichbinnichtschwul64 opened his PrivateMonero.org remote onion node to the public (77)
Rucknium proposed a bounty for the creation of a XMR-BCH atomic swaps implementation (78)
The community restarted discussions to implement I2P torrenting capabilities into Monero core (79)
Creme-Exciting wanted to clone Monero Core codebase into Kotlin native (80)
The community was considering a libwallet enhancenement to reduce wallet sync time (81)
Lovera's CCS proposal made it to the funding stage (82)
Particl announced BasicSwap DEX will be fully compatible with Monero from the get-go (83)
Pete Scriviner denied FCA's involvement in Kraken's decision to delist Monero in UK (84)
Monero Talk interviewed self-proclaimed Monero extremist Mano Crypto (85)
Builderra platform was considering going all-in on Monero (86)
rbrunner7 published another fictional Monero short story titled Nightmare (87)
DutchKevv's NodeJS Monero miner EazyMiner was ready for community feedback (88)
mjxmr submitted his November 2021 Monero dev report (89)
Cake Wallet won a $250K grant to add Zcash support, disappointing the Monero community (90)
Coincards stepped up as first official sponsor of XMR4ALL Monerotopia conference (91)
Monero celebrated 2 years of RandomX on the last day of the month (92)
My contributions:
added new Monero Observer Archive page (93)
added new Community Messages section (94)
published 5 weekly Monero Observer XMR TA reports (Weeks: 43/44/45/46/47) (95)
published 107 Monero Observer reports & 47 community messages (full list of updates and improvements can be viewed on the Changelog page (96))
---
That's it for the 4th edition of Monero Observer Blitz.
Previous editions can be found on the /tag/blitz page.
Let me know if this was helpful to you and thanks for reading!
–escapethe3RA
PS: As always, send your <3 feedback @ /about. Thanks for supporting my 2022 CCS!