Monero Observer – Monero Observer Blitz #21
1 May 2023 [blitz] Here's a recap of what happened this April in the Monero community: Breaking Monero v0.18.2.2 'Fluorine Fermi' was released (1,2) Rucknium posted analysis exposing the negative effects of ~43K 'Mordinals' on the privacy of Monero users (3) R&D There were 4 Monero Research Lab meetings in April (4,5,6,7) The Seraphis Wallet
1 May 2023
[blitz]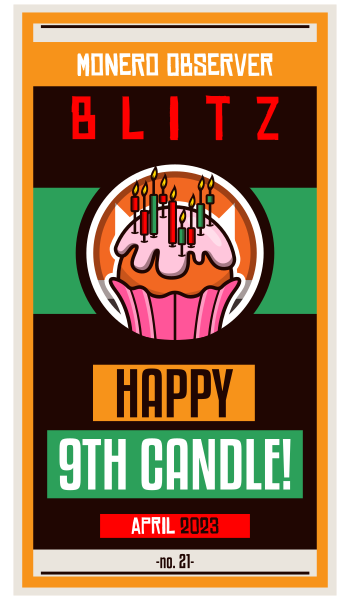 Here's a recap of what happened this April in the Monero community:
Breaking
Monero v0.18.2.2 'Fluorine Fermi' was released (1,2)
Rucknium posted analysis exposing the negative effects of ~43K 'Mordinals' on the privacy of Monero users (3)
R&D
There were 4 Monero Research Lab meetings in April (4,5,6,7)
The Seraphis Wallet Workgroup held 3 meetings (8,9,10)
selsta posted a Monero dev report for March 2023 (11)
jeffro256 posted a third Monero dev update (12)
XMRig v6.19.2 was released with several fixes and improvements (13)
SChernykh released P2Pool v3.3 with several bug fixes and improvements (14)
tobtoht released Feather Wallet version 2.4.5 with several improvements and updates (15)
LocalMonero/AgoraDesk mobile apps versions 1.0.71-1.1.0 were released with several bug fixes and improvements (16,17)
OrangeFren and MajesticBank launched 'Intercambio.app' exchange aggregator (18)
Cake Wallet/Monero.com v4.6.2/v1.3.2, v4.6.3/v1.3.3, and v4.6.4/v1.3.4 were released with support for direct XMR purchases with fiat (19,20)
hinto-janai's 'monero-vanity' got a ~12x speed boost with v0.5.0 release (21)
rehrar released Stack Wallet versions 1.6.9-1.7.4 with new orange theme (22,23,24)
CryptoGrampy released the 'monero-lws-admin' web tool for managing Monero Light Wallet Server accounts (25)
lukeprofits created the 'monero-usd-price' Python package (26)
AnarkioCrypto launched Vendo Digital Downloads XMR marketplace (27)
MMGen Wallet implemented Monero 'offline transaction autosigning' (28)
keef1337 released 'noderowallet' Node.js library for interacting with monero-wallet-rpc (29)
Funding
UkoeHB submitted a new CCS proposal for Seraphis 'ongoing support', which was fully funded (30,31)
plowsof submitted a proposal to continue working as CCS coordinator for 3 months (32)
Lovera posted a CCS progress report for March 2023 (33)
v1docq47 posted a CCS progress report for February-March 2023 (34)
4 CCS proposals were fully funded: BigmenPixel, DangerousFreedom1984, UkoeHB, v1docq47 (35)
AnarkioCrypto proposed a bounty for adding a 'skip sync' feature to Monero wallets (36)
A Foundation Devices engineer proposed bounties for adding Monero support to a Passport hardware wallet fork (37)
Culture
Community Workgroup Meetings took place on the 8th, 15th and 29th (38,39,40)
There were 4 MoneroKon 2023 Planning Meetings in April (41,42,43,44)
An anonymous contributor donated ~96 XMR to the Monero General Fund (45)
MajesticBank donated ~74.5 XMR to Monero General Fund (46)
The second 'Monerun' event took place on Monero's 9th birthday (47)
Monero Talk interviewed Monero dev Jethro Grassie, and Oxen & Session CTO Kee Jefferys (48,49)
Monero Magazine interviewed Sethforprivacy (50)
rottenwheel published Revuo Monero issues #165-168 (51,52,53,54)
LocalMonero published The Monero Standard issues #48-51 (55,56,57,58)
A Monero Meet livestream was scheduled to take place on April 18th (59)
IVPN switched to Cake Labs's pricing API for XMR invoices (60)
MAGIC Grants was holding a Monero Fund 'special election' to fill MajesticBank's seat (61)
MoneroTopia distributed a press release ahead of the 5-7 May conference (62)
[AFH] Frontend development of static websites/landing pages (by nexaver) (63)
[AFH] Private detective (by detectivesleones) (64)
[ANN] I sent @bit_thanos 50 XMR falling for an April Fool's prank (by beyondgoodnevil) (65)
[ANN] Creating reasonably secure Monero hot wallets and cold wallets with Tails OS (by PivotedThreat) (66)
[ANN] AMA: Hi all, Binarybaron the lead developer of UnstoppableSwap XMR-BTC Atomic Swap platform (by unstoppableswap) (67)
[ANN] Bounty: Make BTCPay Server configuration accessible (by Z) (68)
[ANN] Just bought Baklava with Monero! (by Siren) (69)
[LTH] [Cuprate] 0.4 XMR Bounty. Searching for a logo (by ComprehensiveMenu856) (70)
[WTS] [€79.99-89.99] The Monerochan Plush (by monerobull) (71)
[WTS] [3.682 XMR/600 USD] [US] Pride Electric Wheelchair in Texas, Jazzy 614-HD (by xdgxmr) (72)
My personal contributions
Daily

published 72 Monero Observer Reports (73) (consult the Archive page for a complete list (74))
updated Changelog (75) and XMR Stats (76)

As needed/On demand

updated reports, listed 53 Community Messages and 14 Calendar events (77,78) & added 10 new Resources (79)
published Meeting summary: Monero Research Lab, 5 April 2023 (80) and uploaded 14 meeting logs (MRL 2023-04-05, MRL 2023-04-12, MRL 2023-04-19, MRL 2023-04-26, Community 2023-04-08, Community 2023-04-15, Community 2023-04-29, MoneroKon23 2023-04-01, Monerokon23 2023-04-15, Monerokon23 2023-04-22, Monerokon23 2023-04-29, Seraphis 2023-04-03, Seraphis 2023-04-10, Seraphis 2023-04-17) (81,82,83,84,85,86,87,88,89,90,91,92,93,94)
published CT-016: Using 1vyrain to 'soft disable' the dreaded Intel ME on xx30 ThinkPads (95)

Weekly

published 5 Monero Dev Activity Reports (Weeks: 13-17, 2023) (96,97,98,99,100)
published 5 MO Artistic Saturday Top 5 reports (Weeks: 13-17, 2023) (101,102,103,104,105)

Monthly

published MO Blitz Report: #20 (March 2023) (106)
Credits/special thanks to:
everyone that reported broken links, suggested edits, sent anonymous news tips and shared my reports
the cypherpunks for their encrypted emails and XMPP (OMEMO) messages
gnuteardrops from Monero.Graphics for the amazing art and plowsof for the consistent pings
all anon MO loyal readers and generous CCS contributors
hard working people that keep building and maintaining cool stuff for the Monero community
---
That's it for the 21st edition of Monero Observer Blitz.
Previous editions can be found on the /tag/blitz page.
Let me know if this was helpful, thanks for reading!
–escapethe3RA