Monero Observer – Monero Observer Blitz #1
October 26, 2022 by secret
214
31 Aug 2021 [blitz] This month, the Monero community has been real busy. Here's what happened (in 5 minutes): Coreboot maintainer Piotr Krol shared a guide describing how do cold storage XMR transactions inside Qubes OS picodenero tried promoting Monero by selling regular and vinyl XMR stickers, shipping all over the US Diego rehrar Salazar
31 Aug 2021
[blitz]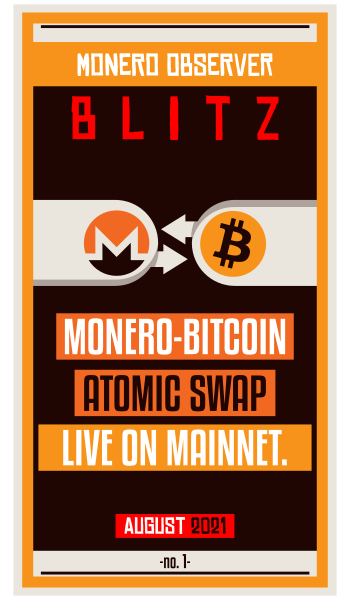 This month, the Monero community has been real busy. Here's what happened (in 5 minutes):
Coreboot maintainer Piotr Krol shared a guide describing how do cold storage XMR transactions inside Qubes OS
picodenero tried promoting Monero by selling regular and vinyl XMR stickers, shipping all over the US
Diego rehrar Salazar has stepped down from the Monero core team after controversy
Citadel Dispatch interviewed Seth discussing mobile phone privacy, operating systems and corporate surveillance
The Monero Policy Working Group held Jitsi Meet meetings on the 19th and 26th
There was an irc/Matrix Community Workgroup meeting on the 21st
Defcon Village Workgroup meeting took place on the 21st on irc/Matrix
The Monero Policy Working Group submitted feedback to the EU Commission on PPPs
Monero Talk's Doug Tuman interviewed Monero core team's Francisco Cabanas aka ArcticMine
The Monerujo team opened up a CCS proposal looking to develop an Android app called Monerujo SideKick
Douglas Tuman interviewed Guillermo Christensen discussing the state of cryptocurrency ransomware
ErCiccione proposed the removal of the Merchants page from the official Getmonero.org website
Cake Wallet released v4.2.5 which features batch sending
XMR <-> BTC atomic swaps went live on mainnet
Asleep-Ad5504 tried to inspire other miners with his Crypto Cave project setup
Justin JEhrenhofer Enhrenhofer was interviewed by Stefania Barbaglio on the Financial Fox Youtube channel
The community met Secret Network's Monero bridge launch with a high dose of skepticism
$7.5K was donated to the Monero General Fund by the community and Unstoppable Domains
New XMRzone pool mined its first ever block within 48 hours of going live
Amazon Web Services (AWS) took down Monero Ocean mining pool's server
Binance started doing mandatory KYC on ALL accounts
Crypt0-Bear started working on a PoC cross-chain atomic swap protocol between Monero and Ethereum
p2pool decentralized Monero mining pool entered the testing phase
rbrunner released a new Monero fiction short story called Proof of Distance
deanero shared primary user flows for the Haveno exchange design
Monero set 100K usage record last month which brings it in the top 3 most used cryptocurrencies on Travala
Seth interviewed Juraj Bednar on Opt Out Podcast Episode 7 discussing parallel economies
Community reported that Coindesk removed Monero's live price feed page from their website
humanadventure offered to teach online music lessons in exchange for XMR
Monero Observer CCS proposal was submitted for community review
MONT3M reported losing 0.03 BTC while attempting a BTC-XMR atomic swap using the COMIT tool
Alex from LocalMonero proposed to deprecate Monero integrated addresses
dsmlegend reported his rough BTC-XMR atomic swap experience but luckily no funds were lost
jberman got his CCS proposal accepted
Douglas Tuman interviewed Dr. Rolf van Wegberg discussing XMR and the darkmarkets
chiefgyk3d shared his impressive swag with a RockPro64 Monero node running PiNodeXMR
Professional magician Jack Velour offered his services in exchange for Monero
A Monero Space meeting took place on irc/Matrix on the 28th
Crypt0-bear released the latest music video from The Orange Album titled Solo Mining Monero
Oxygen Orion Point Release 2.3 has been tagged and the release is on its way
Club Monero added new unique Monero-focused designs on shirts and stickers to their shop
CypherStack's relationship to Monero core, the General Fund and the CCS system was criticized by the community
Douglas Tuman from Monero Talk submitted his first ever CCS proposal looking for review and funding
Getmonero.org onion site went offline for unknown reasons
Bonus Blitz TA:
Price/pattern: XMR/USD opened at ~$240 (Kraken) on August 1st and rose all the way up to ~$339 to form a top; closed around $285 (+18.8%) on the last day of the month; overall we printed a bullish engulfing candle in August, but the bears managed to form a rather large wick to the upside by rejecting the top;
Bearish scenario: if it breaks down in September, we can expect to see a reaction at the $225-$250 levels; further down $175-180 is a good zone to look for stronger support;
Bullish scenario: if we break $340, then the $518 ATH will be the next big target.
---
That's it for the 1st Monero Observer Blitz.
You can find reference links for everything mentioned above on the site.
Obviously, a lot of stuff is missing as it is virtually impossible to include every single thing that happened this past month. Furthermore, please remember that the Monero Observer was only born recently, it's still a baby.
I just hope this was helpful to you. Thanks for reading and make sure you are extra vigilent on that boating trip next month!
–escapethe3RA
PS: I <3 all feedback @ /about