Monero Observer – hinto-janaiyo releases monero-bash v1.8.0
August 18, 2022 by secret
189
17 Aug 2022 [mining] hinto-janaiyo has released v1.8.0 of Monero Bash wrapper for Linux, monero-bash. Updates and fixes Status: New P2Pool stats: Total payouts, XMR received, Hashrate, Effort, Connections systemd: New command to auto-start processes on boot: monero-bash enable/disable <process> Package manager: Package hash & PGP will be shown [..] Seed: Non-english seeds will be
17 Aug 2022
[mining]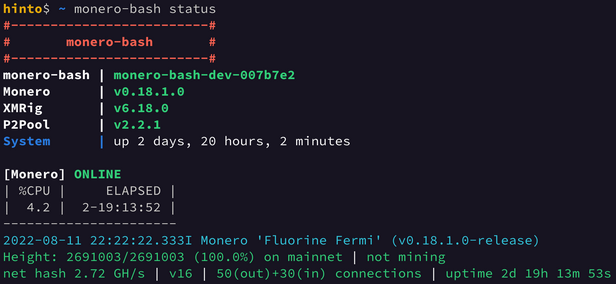 hinto-janaiyo has released v1.8.0 of Monero Bash wrapper for Linux, monero-bash.
Updates and fixes
Status: New P2Pool stats: Total payouts, XMR received, Hashrate, Effort, Connections
systemd: New command to auto-start processes on boot: monero-bash enable/disable <process>
Package manager: Package hash & PGP will be shown [..]
Seed: Non-english seeds will be 24 words instead of 25 to prevent incorrect CRC issue
[..]
The sources, SHA256SUM and .asc files can be found on Github. Always verify before using.
To learn more and support the project, consult hinto-janaiyo's new CCS proposal to finish developing monero-bash v2.
Reminder: v2.0.0 is in progress and v1.x.x versions will not be compatible.
---