Litecoin price death cross points to more downside ahead of US CPI data
September 11, 2023 by secret
68
Litecoin price formed a death cross pattern on August 17th. LTC and other coins are suffering from weak fundamentals. The focus now shifts to the upcoming US inflation data. Litecoin price plunged to the lowest level since November 2022 as investors wait for the upcoming US consumer price index (CPI) data. The LTC coin plunged
Litecoin price formed a death cross pattern on August 17th.

LTC and other coins are suffering from weak fundamentals.

The focus now shifts to the upcoming US inflation data.
Litecoin price plunged to the lowest level since November 2022 as investors wait for the upcoming US consumer price index (CPI) data. The LTC coin plunged to a low of $60, meaning it has dropped by over 36% since its halving in August and by almost 50% from its highest level this year.
US inflation data ahead
Litecoin and other cryptocurrencies have been in a strong bearish trend in the past few months as demand dropped. The most recent data by The Block shows that the total volume of crypto traded in centralized exchanges (CEX) dropped to the lowest level since 2020 in August.
There are two main reasons why Litecoin price has dropped. First, there are serious regulatory concerns in the industry after the Securities and Exchange Commission (SEC) sued Coinbase and Binance. 
There are two main positives about these lawsuits. First, we believe that they will take a long time to complete. The Ripple vs SC case took more than three years. Second, crypto companies have shown that they can win major lawsuits against the SEC.
The other main reason for the sell-off is the Federal Reserve,which has pushed interest rates to the highest level in decades. These hikes have led to a surge in yields in American assets. The 10-year Treasury yield has jumped to 4.50%, which is higher than the official inflation rate.
Similarly, money markets are now yielding over 5.2%, Therefore, investors are shifting their assets to these assets and avoiding the relatively riskier cryptocurrencies like Bitcoin and Litecoin.
Therefore, the upcoming US inflation data will have an impact in Litecoin and other cryptocurrency prices. The numbers, scheduled for Wednesday, are set to show that the headline inflation jumped to 3.4% in August. A higher figure will lead to more LTC weakness.
Litecoin price forecast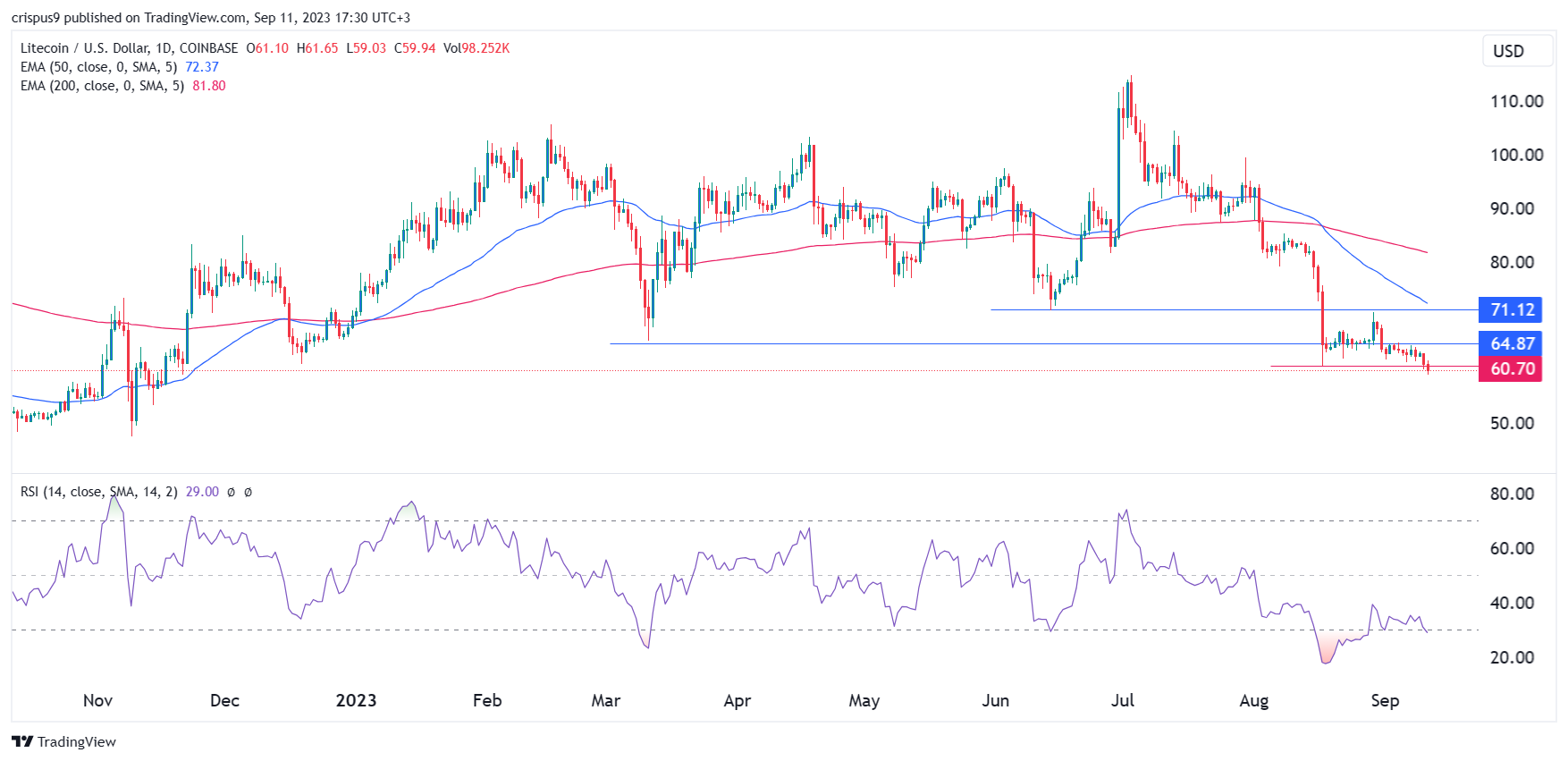 The daily chart shows that the LTC price has been in a strong bearish trend in the past few months.. It has now managed to move below the important support at $60.70, the lowest level on August 18th. Most importantly, it formed a death cross on August 17th. This pattern is formed when the 50-day and 200-day moving averages make a crossover.
Litecoin price has also retreated below the key support levels at $71.12 and $64.87, the lowest levels in June and March. Therefore, the outlook for the coin is bearish, with the next level to watch being at $50.
How to buy Litecoin
eToro
eToro is a multi-asset investment platform with more than 2000 assets, including stocks, ETF's, indices, commodities and Cryptoassets. eToro offers over 60+ Cryptoassets to invest or invest in their CryptoPortfolio where investors can benefit from the accumulated growth of Bitcoin, Ethereum, XRP, Litecoin and other leading cryptocurrencies. eToro users can connect with, learn from, and copy or get copied by other users.
Skilling EU
Skilling is a regulated Forex and CFD broker that allows traders to access 800+ financial instruments, including 10 popular cryptocurrency CFDs with competitive pricing and fast execution time. Skilling offers a selection of trading platforms, including the proprietary Skilling Trader and popular, industry renown cTrader and MetaTrader 4 platforms, which can suit the needs of customers with different levels of trading experience.