Ledger and Rosaluna Mezcal to Present Rothschild-Butcher NFT party
March 17, 2023 by secret
16
This will be the party to be during NFT LA. On March 22nd, artists Mason Rothschild (MetaBirkins, This Artwork is Subject to Change, Gasoline) and Jack Butcher (Checks, Visualize Value), will unite their communities. The invitation-only event will be powered by Ledger and Rosaluna Mezcal. A party in the heart of downtown LA In the
This will be the party to be during NFT LA. On March 22nd, artists Mason Rothschild (MetaBirkins, This Artwork is Subject to Change, Gasoline) and Jack Butcher (Checks, Visualize Value), will unite their communities. The invitation-only event will be powered by Ledger and Rosaluna Mezcal.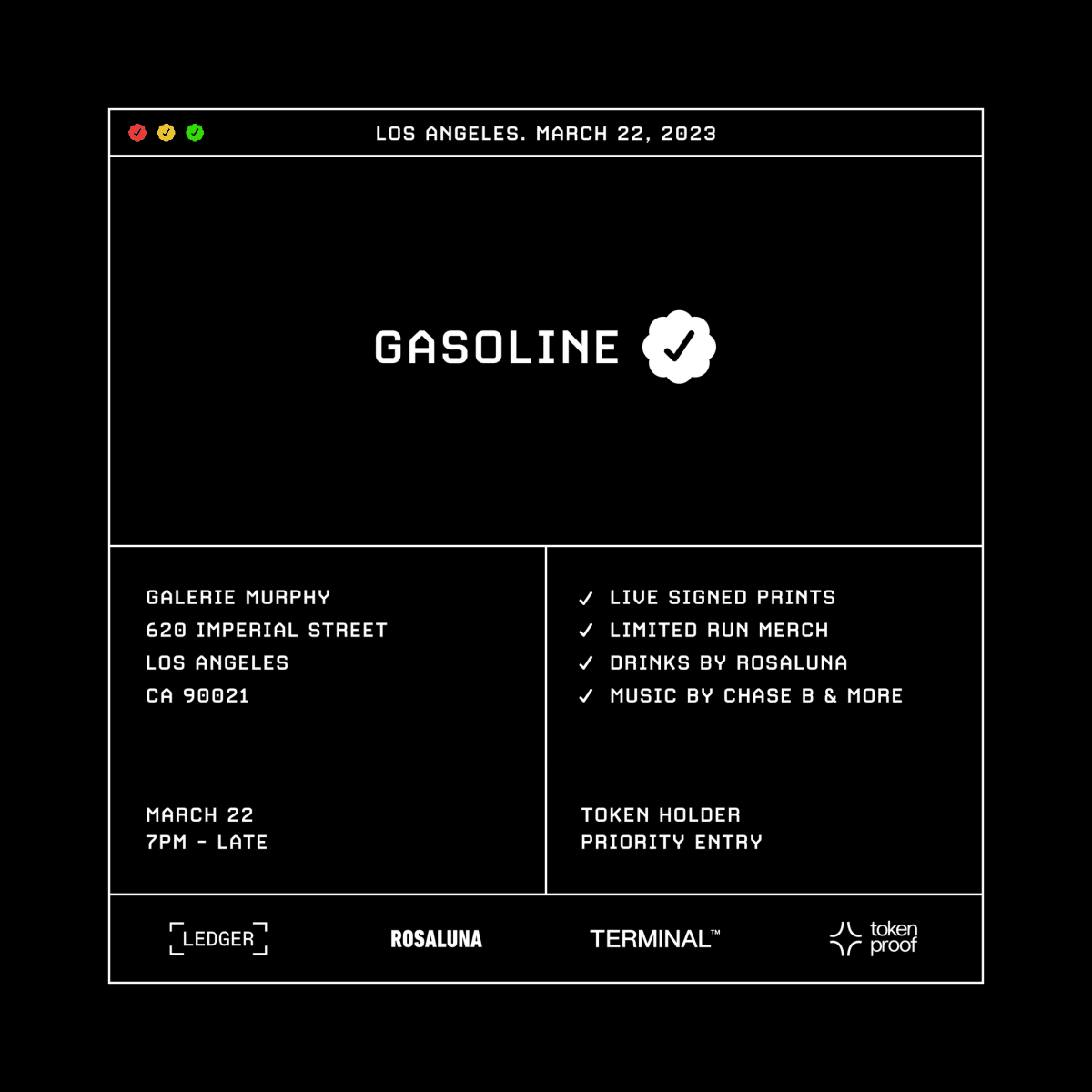 A party in the heart of downtown LA
In the heart of downtown Los Angeles, guests will converge at the Galerie Murphy. This state-of-the-art concept space opened recently in the Art District. For this ultra-exclusive celebration, presented by Ledger and Rosaluna Mezcal, ticketing and token-gating will be powered by Tokenproof.
Attendees will discover the latest NFT creations from Rothschild and Butcher. Besides, they will have a chance to interact with the artists and their communities. Furthermore, Ledger will unveil their joint project with Rothschild and Gasoline.
Jack Butcher launched two of the most successful NFT Art projects. The designer and entrepreneur is the founder of Visualize Value, a design studio that creates visual explanations of complex concepts from philosophy, economics, and technology. He's also the man behind "Checks". The founder of the creative studio Gasoline, Mason Rothschild, describes himself as a disruptive digital architect and industry-conversation anarchist.
Ledger, major support for art
The french unicorn Ledger invested strongly in the NFT Art market last year, launching an NFT Marketplace in June. Moreover, the company acquired iconic NFT artworks and is now the owner of a prestigious collection.
Besides, Ledger supports NFT artists in various ways. The party organized in LA with Jack Butcher and Mason Rothschild is the latest illustration of its involvement in the art world.
IRL events are the best way to make communities stronger. Artists Jack Butcher and Mason Rothschild understood it well. With the help of Ledger and Rosaluna Mezcal, the party they will throw in LA should be epic.
Guests are advised to RSVP quickly by using tokenproof to secure their attendance. For those who are unable to attend, social media platforms will provide updates and highlights from the event.
---
All investment/financial opinions expressed by NFTevening.com are not recommendations.
This article is educational material.
As always, make your own research prior to making any kind of investment.