here's why bulls have $1 in sight
July 22, 2023 by secret
65
XRP price has been trading around $0.80 for the past week, having retreated before hitting the $1 level. Ripple's win against the SEC remains a huge catalyst and several indicators suggest a new leg is likely. If price breaks out amid new upside catalysts, it could be a big move for XRP. XRP's explosive gain
XRP price has been trading around $0.80 for the past week, having retreated before hitting the $1 level.
Ripple's win against the SEC remains a huge catalyst and several indicators suggest a new leg is likely.
If price breaks out amid new upside catalysts, it could be a big move for XRP.
XRP's explosive gain on the day Ripple scored a big one against the US Securities and Exchange Commission (SEC) did not help bulls cross the psychologically important $1 level. And with ranged trading amid a flip in the Fear & Greed Index this week, the struggle beneath $0.80 has hinted at a slight frustration across the XRP market.
What's the XRP outlook?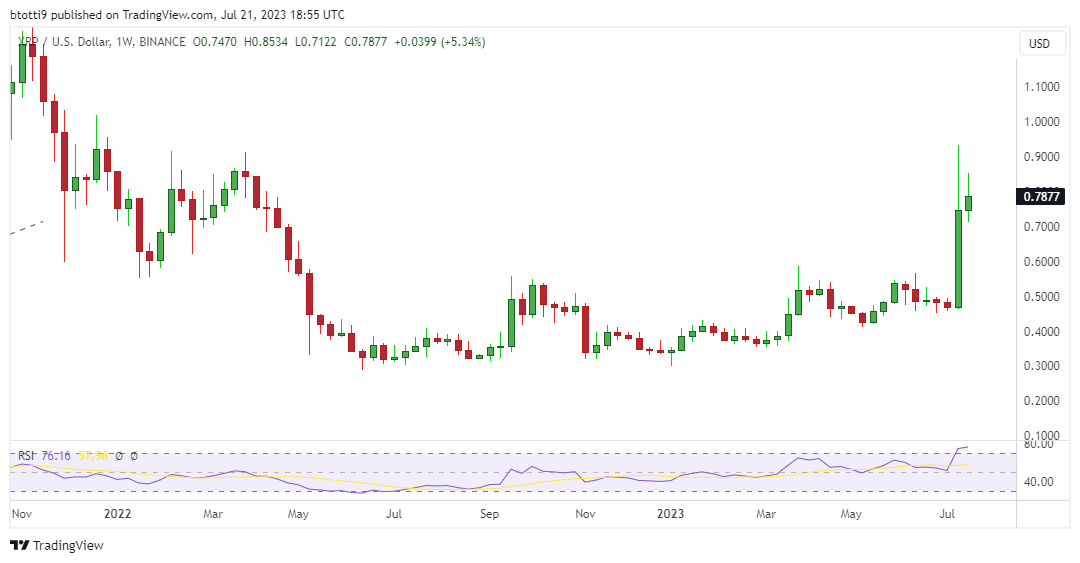 A weekly chart showing XRP/USD price performance. Source: TradingView
XRP's pullback below $0.80 (XRP/USD traded to highs above $0.93 last week) has come even as open interest in futures contracts continued to hover at its highest level since November 2021. According to OI data from Coinglass, that metric soared to $1.19 billion on Thursday July 20.
Rising open interest is indicative of inflows into the XRP futures contracts and typically confirms the recent trend's strength.
The XRP market has also been on a tear in terms of the global spot trading volumes. On-chain data showed XRP volumes, buoyed by massive interest in South Korea, topped that of Bitcoin.
This is the largest volume on $XRP measured in the last 1,5 years.

INSANE! pic.twitter.com/paNyPJsCXm

— Crypto Rover (@rovercrc) July 13, 2023
Positive sentiment has also been infused into the XRP market by recent developments around adoption of Ripple technology. After the partial win against the SEC, reports emerged that the US-based blockchain company was looking to recapture the interest of major financial players in its cross-border payments and remittances technology.
Ripple also made a major splash this week, committing to a $54 million investment in Futureverse, an artificial intelligence and metaverse-focused project. With more upside catalysts across the crypto market, it is possible XRP price could cap a great month with a burst above the key resistance level.
However, while a move higher is a more likely scenario given the highlighted factors, a negative flip in sentiment with prices still near current levels could risk a bearish retest. The primary support level below $0.70 is around $0.50.